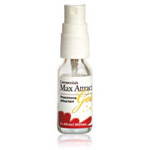 Max Attraction Gold is a brand that is hard to find information about, and this is not a good sign. When you are shopping for a product as finicky as pheromone spray, consumer reports and unbiased reviews are your best friend. You will get the straight dirt on whether a product really works or not without all of the flowery language and clever word usage employed by advertisers to make a product look good. Max Attraction Gold is one of the few pheromone sprays out there that still has very little web presence outside of their own website. Who knows, Max Attraction Gold really could be the greatest pheromone spray on the market today, but do you really want to take only their word for it? Here is a little overview of the product to help educate you on how this particular spray actually stacks up against the competition and to help highlight the things they do right and all of the things that could use improvement.
Max attraction gold does what it does very well. It comes in a small bottle which is perfect for stashing away in your pocket while you are out. It won't stand out too much or look too bulky when it is in your shirt or trousers, but you can take it out and apply it at a moment's notice in the closest men's room. That way even if the effects seem to be dissipating over the course of the night, it will not be difficult to reapply. The unfortunate downside to this however is the fact that the actual amount that comes in a standard bottle is criminally low for the 70 dollar price tag that accompanies the stuff.
Max Attraction Gold also puts all of their eggs in one basket so to speak when it comes to the inclusion of Androstenol. While the other main chemicals found in natural human pheromones are still present here, they all take the backseat to Androstenol which makes up a good 60% of the compound. This is why Max Attraction does what it does so well. The product is quite true to its name, as Androstenol is the chemical that is chiefly associated with sexual attraction as opposed to the other main pheromone related chemicals which have more to do with stress relief and generally positive feelings. However, this can be both a good thing and a bad thing. While Max Attraction Gold can easily lead to you getting women into bed with you, they will not be so inclined to stay the next morning. If your goal is purely getting in another woman's pants then this is the product for you; however there are also other products out there which have a similar effect, with additional benefits as well.
The makeup of human pheromones is only part Androstenol, with the other chemicals being employed to help relieve stress and make women feel more at ease with you in general. Competing products such as PherX and PherSpray for example have a balanced formula which is more readily able to match the human chemical makeup, thus ensuring not only the ability for women to make it into your bed, but to stay for breakfast and much more. These products act more as relationship builders and sexual agents while Max Attraction Gold is used to awaken a raw lust in females. If you are going to use this product, use it responsibly and sparingly, and know what you are getting yourself into.
The Top-Rated Pheromones for 2012
#1

- TOP PICK

Ingredients:
4.8
Results:
4.9
Value:
5.0
Retail:

$49.95

Special Offer:
$29.95

#2

- BEST NEW PRODUCT

Ingredients:
5.0
Results:
5.0
Value:
4.8
Retail:

$89.95

Special Offer:
$49.95

#3

- BEST IN RETAIL

Ingredients:
4.1
Results:
3.9
Value:
4.1
Retail:
$55.00
Did you enjoy this post? Why not leave a comment below and continue the conversation, or subscribe to my feed and get articles like this delivered automatically to your feed reader.