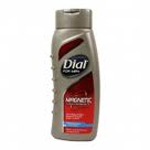 Dial Magnetic is not your standard body-wash, nor your standard pheromone treatment. It attempts to combine both the lustful and invigorating effect of pheromones with the cleansing and refreshing power of soapy body wash. This is a good product for anyone that is very cautious about pheromones and whether they work or not, but true pros, and those that are a little more adventurous might want to stay away. While this body wash is certainly an interesting product which does things a little differently, it is by no means the end all be all when it comes to pheromones. There are some interesting advantages that a product like this possesses, but it also carries with it some major disadvantages as well.
While the approach that Dial is taking is a novel one, it is one of the more paradoxical pheromone products out there, and here's why. All humans produce pheromones naturally. They are secreted in our sweat, our urine, our tears; just about every liquid the body expels contains some form of pheromones. However, the reason that we do not have members of the opposite sex surrounding us all of the time is because of the fact that we shower. Unfortunately the time of day when we reach our sexual peak is the same time of the day in which we need to shower it all off. Women generally aren't attracted to all of the things that come with pheromones such as sweat, tears, blood, and pee, so we shower all of our pheromones away in order to get more attention, which in turn assures us that we will receive less, because all of the pheromones will disappear with the rest of the grime down the shower drain.
Dial Magnetic, despite the fact that it is a shower gel and meant to clean you, will just as easily find itself sinking down the drain the more you scrub and bathe yourself. By the time you towel off, unless you are okay with walking around with green globs of soap stuck to your neck and arms all day, all of the pheromones that Dial worked so hard to infuse to their formula will have disappeared down the drain with the rest of the soap. You will be getting rid of the pheromones at the same rate that you are applying them to yourself when you use Dial Magnetic. You will end up having to use a supplementary pheromone product to recover what was lost, which defeats the purpose of the body wash.
Even though the thought of a shower gel that literally makes you more attractive is a romantic one, it does not work well in practice. If you care about really seeing results, competitor products such as PherX or PherSpray have been getting good reviews and they do not require you to take a shower every time you need to put them on either. Maybe one day a successful pheromone shower gel will be realized, but that day is not today, and until then, a standard spray or oil will be your best bet.
The Top-Rated Pheromones for 2012
#1

- TOP PICK

Ingredients:
4.8
Results:
4.9
Value:
5.0
Retail:

$49.95

Special Offer:
$29.95

#2

- BEST NEW PRODUCT

Ingredients:
5.0
Results:
5.0
Value:
4.8
Retail:

$89.95

Special Offer:
$49.95

#3

- BEST IN RETAIL

Ingredients:
4.1
Results:
3.9
Value:
4.1
Retail:
$55.00
Did you enjoy this post? Why not leave a comment below and continue the conversation, or subscribe to my feed and get articles like this delivered automatically to your feed reader.