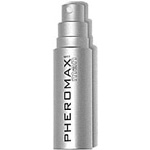 Pheromax puts a lot of effort into making their pheromones look like a retail cologne. The outer packaging has a certain luster to it and the bottle looks like something that would come out of a Paul Mitchell catalogue. As professional as their product looks, one would assume that the actual performance of the product matches the packaging. However, anyone that's ever shopped for a used car knows that the biggest lemon in the lot will always have the brightest paint job. Is the Pheromax product so effective that they can afford to spruce up their look with all of their massive sales profits, or is all of their research money going towards design and advertising, with none going towards developing a working formula? Unfortunately the pheromone market these days is saturated with concentrations made up of mostly alcohol and water which are being passed off as actual pheromones. Is Pheromax another one of these products? There are a few things that Pheromax does very well and a few things that could use improvement.
One thing about Pheromax that could be looked at as either positive or negative is the ability to control scent. People that are used to using scented pheromone sprays often complain about the smell of their chosen product. Whether the pheromones work or not, the scent can often be a little too much to handle in some sprays. In addition to that, once a consumer finds a scented spray that they like, they often stick with it for fear of spending another 50-100 dollars on a new spray that might have a less inviting smell. This means that the particular brand is cornering the market in on itself unfairly, forcing customers to stick with their product for fear of wasting their money if they venture into trying a new product.
Those that use unscented sprays usually try to combine them with standard cologne, but not knowing how to combine the two can ruin the effectiveness of a dose of pheromones by causing the chemicals to be washed away. Pheromax attempts to solve the issues of both the non-scented pheromone wearer and the scented pheromone wearer by including an atomizer. If you do not like the scent of other pheromone products and want to try your own scent, you simply place your favorite cologne in the atomizer and it is dispersed at a rate that will work in compliance with the pheromones you are using, leaving you smelling fresh and simultaneously covered in sex transmitters all night long.
This is an admirable way of approaching the pheromone market, however, the expenses total up to 80 dollars for a 14 ml bottle. This is more than three times the price of competitor products such as PherX or PherSpray which offer a 30 ml volume for 25 dollars per bottle. And considering that the dose of Androstenone is so low in Pheromax, you might be paying extra for a product that would be substantially less effective than other brands. Pheromax definitely has its benefits, especially with the included atomizer to help you customize your scent, but the actual formula included in the product is nowhere near the strength the average pheromone user would require.
The Top-Rated Pheromones for 2012
#1

- TOP PICK

Ingredients:
4.8
Results:
4.9
Value:
5.0
Retail:

$49.95

Special Offer:
$29.95

#2

- BEST NEW PRODUCT

Ingredients:
5.0
Results:
5.0
Value:
4.8
Retail:

$89.95

Special Offer:
$49.95

#3

- BEST IN RETAIL

Ingredients:
4.1
Results:
3.9
Value:
4.1
Retail:
$55.00
Did you enjoy this post? Why not leave a comment below and continue the conversation, or subscribe to my feed and get articles like this delivered automatically to your feed reader.